Think of Social Media as websites that allow you to share knowledge, offers insight into who you are, how you run your business, live your life, share the things you love, to engage and communicate with customers and fans, and for others to share the information even further.

Schedule and share email campaigns
on Facebook, Twitter, and other social media to with your followers and get more engagement.
Include keyword #hashtags and @username on Twitter and Facebook to create targeted mentions, post email archive links, and add text and links that tailor the information and interest to the neighborhood, type of business, or upcoming event.
Make it easier for people and search engines to find your business.
Claim your social media (Facebook, Yelp, Foursquare, etc.) and business profile (Google Business Profile).

A brief description of services, using keywords, provides a professional presence for your business, along with the accurate map of the location, current and future (holiday and special) business hours, business address, website address, email address, and phone number helps make it easier to do business for customers.

Review the performance of your social media post to discover the number of likes, shares, comments, and pay to boost them to your target audience.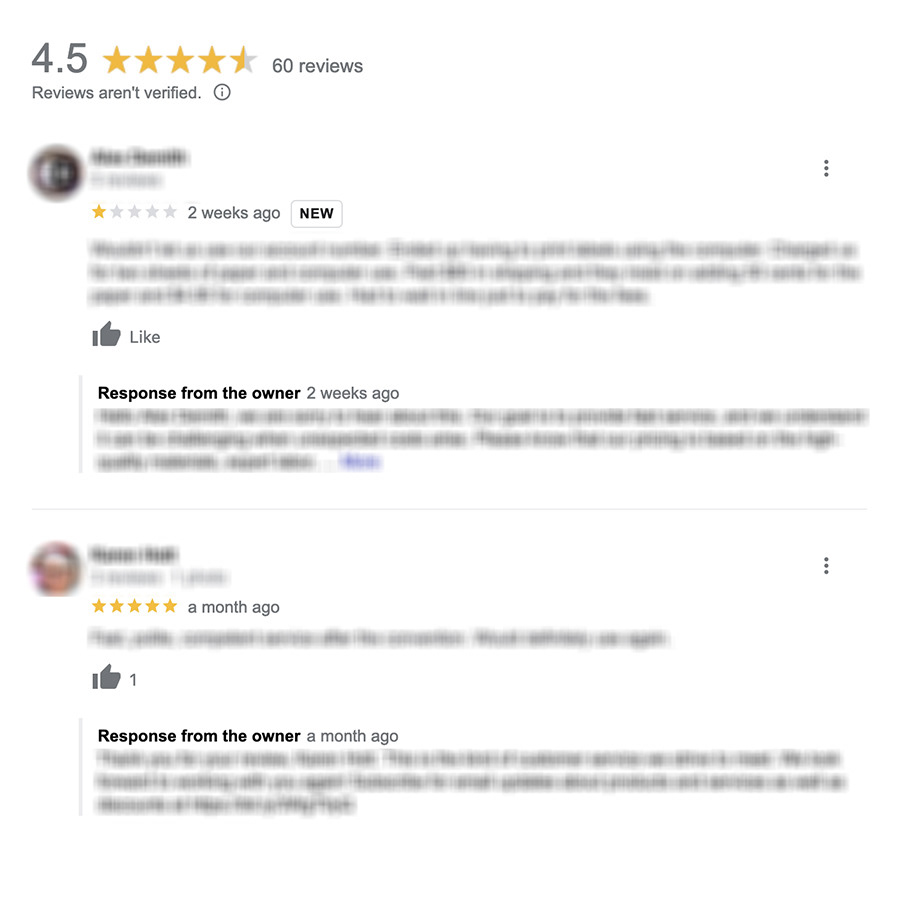 Ask for reviews to show that you care about the customer experience and monitor with timely and relevant responses.
Most consumers trust online reviews as much as personal recommendations from friends and family. The more reviews a business has, the more trustworthy it is deemed. Customers read up to ten reviews to make up their mind about the business. Reach out and gain insights how to improve service. Ask customer to update review after the situation has been remedied. Use reviews to reduce future customer worries. This helps the company understand the perception of how well the services are thought of and build trust with current and future customers.
Third-party reviews are collected by third-party websites
such as Google Business Profile and social media sites
such as Yelp, Foursquare, and Facebook, and are independent from the business.
Thank reviewers for reviewing. Match customer's emotion (happy, serious). Talk about the service if mentioned by customer. Express hope they will return. For negative reviews, Same as aforementioned, and also be sympathetic, calm, apologize if needed.
First Party Reviews are collected and appear on your own website
with no input from the business owner.
Google shows First Party Reviews, with star ratings of your reviews, in search  results and ranks them higher than third-party reviews.
Consulting services include:

Consistent branding within each site.
Research and optimize keywords and content (images, text) to reach a target demographic and branding consistent on profiles.
Schedule campaign updates with image, text, and relevant #hashtag to engage targeted audiences.
Save time scheduling and monitoring updates with Hootesuite in Facebook, Instagram, Twitter, Linkedin, and Google Business Profile.
Measure and boost your impact on Twitter with Twitter Analytics.
Analyze campaigns with Hootsuite, Twitter, and Google Analytics.
Add contacts to your email marketing updates from links.
Encourage reviews on Facebook, Foursquare, Yelp, & Google Business Profile, Merchant Circle.
Review the results to refine future updates.
Suggest new services that the constantly changing sites have to offer.
Contact me to for Social Media
management